Dramatic changes are ahead for the automotive aftermarket. These include changing customer expectations, accelerated adoption of new technologies, and shifts in competitive power. Value creation and business models in the automotive aftermarket will also be fundamentally reshaped by these changes. In the mature markets of Europe and North America, the pace of consolidation will accelerate, and competition will arise from unexpected players—for instance, digital natives pursuing opportunities to move into the automotive aftermarket space. In emerging markets, whole new areas of consumer needs will arise and pressure aftermarket companies to respond.
The advent of new technologies and the market shifts that accompany them are compelling aftermarket players to assess their position and be strategic about maintaining positions of strength in a fast-changing environment. Learning from past disruptions in other industries, we know that not having the requisite strategies to cope with these disruptions can lead to decline not just for individual, established corporations but also for whole subindustries. But as much as experts agree that significant changes are ahead, a big picture of all trends and ideas to face them still needs to be developed.
This article, based on our new report Ready for inspection: The automotive aftermarket in 2030, aims to illuminate the changes and disruptive trends that the automotive aftermarket is going to face in the coming years and provide answers to some of the key questions that these trends pose to all players: Which trends will affect the automotive aftermarket, and how will the aftermarket value chain be disrupted? How will customer involvement and the customer journey change? How will profit pools shift along the value chain? What are the initial steps aftermarket players should take to be prepared?
In discussing the situation—the trends and the pragmatic action recommendations—we rely on our various project experiences, analyses, industry expertise, and insights derived from interviews with more than 40 experts and executives in the automotive aftermarket.
Automotive aftermarket trends
The automotive aftermarket has a current business value of about €800.0 billion and is expected to grow 3 percent annually to around €1.2 trillion by 2030. In the next years, ten trends—in three broad categories—will fundamentally change the industry (Exhibit 1).
These changes have three major effects: disruptions along the value chain, a change of end-customer access, and a shift of profit pools.
Disruptions along the value chain will not only be driven by existing industry players but also by new entrants. Software and electric-vehicle (EV) component manufacturers will enter at the beginning of the chain. In addition, e-commerce and digital players will disrupt the traditional parts-distributor business, and workshops will witness the proliferation of specialized players (for example, EV or fleet maintenance). Start-ups and incumbents will fulfill roles as intermediaries, seizing opportunities to connect customers and services in new ways.
The new value-chain design will translate into higher price transparency for the customer across the entire value chain. New touchpoints will be created, giving new entrants access to end customers and threatening to reduce end-customer access for other players. Furthermore, customers will increasingly rely on automated systems and recommendations. Last, there will be a shift from private to business needs due to the increased share of professional fleet operators in the aftermarket.
In consequence, profit pools might shift significantly between whole-value-chain steps (Exhibit 2). Based on the estimated impact of trends such as EVs, connected cars, and e-commerce, more than €100 billion—or 30 to 40 percent of aftermarket profits—could be subject to redistribution along the value chain in 2030. The shifts will be bidirectional for each stakeholder group, and the new distribution will depend on how the respective stakeholders manage to position themselves in the new aftermarket ecosystem.
Areas for action
We believe these disruptive effects present each stakeholder with a clear mandate for change. We suggest that all major players take pragmatic action to help them prepare for the new landscape and take full advantage of the opportunities.
OEMs to secure core business and strengthen their independent aftermarket position. To protect market share and sales volume, OEMs need to become more customer-centric and enhance their approach to customer segmentation and experience. Additionally, the introduction of multichannel strategies will help defend the top line against entrants with digital genes. Shifting focus to the aftermarket in emerging markets is another lever that needs to be pulled. As the share of older vehicles grows, OEMs need to look further beyond new-car sales and become more involved in the traditional playing fields of the independent aftermarket.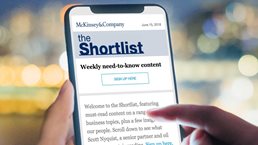 Subscribe to the Shortlist
McKinsey's new weekly newsletter, featuring must-read content on a range of topics, every Friday
Suppliers to explore alternative sales, branding, and pricing strategies. Suppliers can develop additional sales channels to increase direct customer access. Successful industry examples include the introduction of a second price line with a differentiated brand, forward integration along the value chain, or providing garage concepts to a broad range of workshops. At the same time, suppliers should also actively respond to competitive pressure and consolidation through, for example, partnerships with the strongest distributors or digital players or by following multibrand strategies.
Parts distributors to intensify their digital service offerings. Embracing digital and analytics is one important commitment to ensure that incumbent parts distributors do not get edged out by new players with digital genes. For distributors, a digital and analytics focus can include an optimization of their own online platforms, tapping into big data analyses, and participating in the platform game for customer data. Distributors are also advised to choose a suitable growth strategy: smaller players may occupy profitable niches while large players need to focus on organic and inorganic growth to achieve scale and maintain high entry barriers.
Workshops to professionalize for coping with increasing complexity. Investing in recruiting, training, and equipment will be key for workshops developing their ability to manage the increasing technological complexity of next-generation vehicles. On the customer-facing side, they should invest in enabling a truly digital customer journey and, at the same time, consider a brick-and-mortar makeover to build on a new customer service mind-set. Finally, workshops should explore ways to clearly position themselves versus competing networks.
---
A series of trends will significantly affect the future landscape of the automotive aftermarket industry. It is now time for all value-chain players to take action to shape the future industry landscape, ensure their competitiveness, and perhaps even expand into untapped profit pools.
Download Ready for inspection—the automotive aftermarket in 2030, the full report on which this article is based (PDF–7.2MB).